Yay! We completed our travel goals two international trips for 2017! A good friend of mine had mentioned traveling to Cape Town, South Africa earlier in the year, and we finally made it happen at the end of the year. However, this trip almost didn't happen.
I just so happened to look up passport/visa information on traveling with children to South Africa the night before and found out that I needed the boys' unabridged birth certificates (basically, originals and with both parents' information on them) AND a copy of their father's death certificate since I was a widow traveling alone with the boys.
I generally don't like carrying their originals around and always carry copies on international trips, and, of course, I couldn't find Xavier's original. So, I thought I'd take a chance and try taking copies.
We got to the airport extra early to check-in. At this time, I was working for Delta Global Services, where for working 30 hours per month I got travel benefits for my family and had a great discount on international flights.
Of course, the desk agent told me that I needed ORIGINALS. Needless to say, I went into slight panic mode because I couldn't find Xavier's original. She was very helpful, though, and gave me a few options:
Plan B – Get the copies signed by a notary. I later found out that this was illegal.
Plan C – Wait until the Vital Statistics office opened at 8:00 am get originals. This would've still given us time to catch the 6:30 pm flight out of Atlanta to Johannesburg.
Plan D – Not go at all. Not really an option.
Thankfully, the universe had other plans – I found Xavier's birth certificate under the basement TV room couch (why the heck was it there?!) We got back to airport in time to catch (and get seats on) the next flight out to Atlanta.
So, if you're planning to travel to South Africa, be mindful of their rules for children traveling to the country. In addition to passports be sure to have official, unabridged birth certificates for both you and your children. Click here to check out other requirements for children traveling to or from South Africa.
While we waited in Atlanta to see if we'd get seats on the flight to Johannesburg, I received word that my 93 year-old grandmother in Kentucky was in the process of transitioning to the ancestral realm. We were able to spend time with her on her 93rd trip around the sun, so I was at peace if she had decided to leave this earthly realm.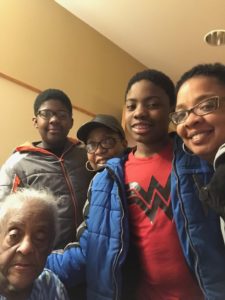 She had started to regain some strength, so we continued on with our journey. The boys had hoped that she would be able to see the beginning of 2018 and she did. She made her transition on January 12th, 2018. Cornelia Rebecca Gamble – may her memory be eternal!